Japan has had a long history with marketing people for entertainment based on their image or personality in what is known as an "idol". The idol industry first starting in the 1960s, but it became more prominent in the 70s with the help of television. It wasnt until the 1980s where they started to see their peak. These idols are usually supported and marketed by companies, but some are just organically formed and idolized like the women of Omiya Madonna Racing (written as 大宮真呑奈Racing or 大宮マドンナレーシング).
大宮マドンナレーシング
While browsing on the internet for more details on the group, I stumbled upon Atsuko-chan's personal blog reminiscing on the days of her youth.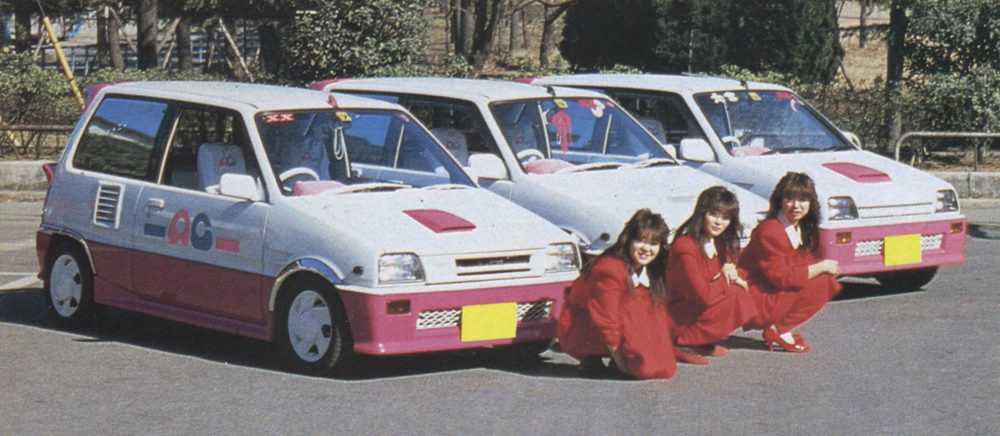 Team leader Atsuko Koike faced a lot of challenges in junior high school. Her father passed away to cancer at the young age of 46. She started to struggle in school before the passing of her father. Atsuko-chan dropped out of junior high to work at a Fujiya restaurant as it paid more than going to school did. It wasn't until the next year she was wondering what to do about her lack of education, when her mother told her about a vocational school that opened up nearby. This is where Atsuko met Ume at the age of 17. They became best friends and spent every day together.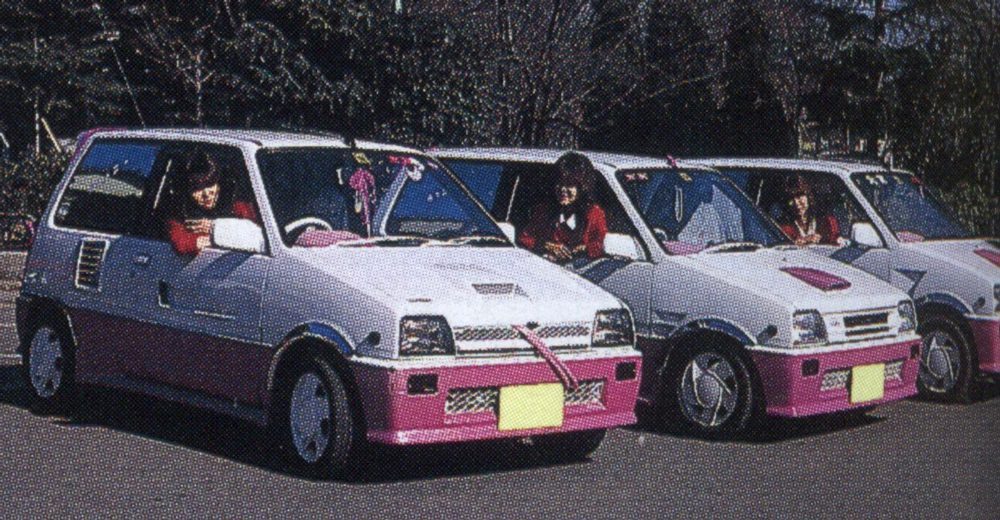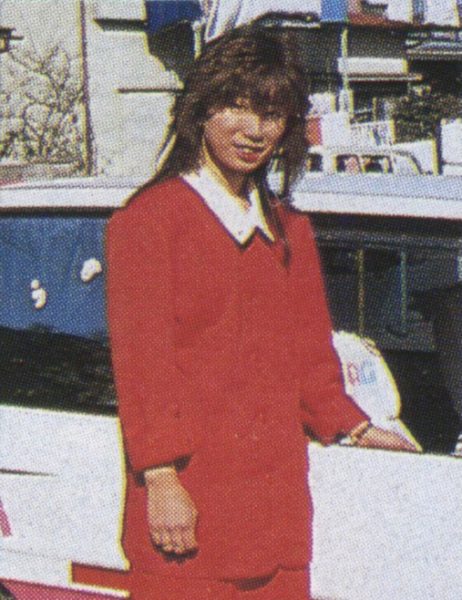 Ume was the first to get her license at the age of 18, where she drove around a bright red AE86 Levin. Atsuko received her license at the age of 19. Her boyfriend at the time suggested to buy a Mira Cuore, which she thought was ugly and slow. She lent this car to her ex boyfriend who ended up getting in an accident with it. Atsuko had her truck driver friend repair the car. She then had it painted pearl white, influenced by her Honda Courreges Tact.
Around that time she saw a Young Auto magazine at Ume's house. She became fascinated by the girls in the tokkō-fuku riding around in their Honda City. This is where Atsuko told Ume that they should make girly matching cars, with the courreges theme.
When Atsuko turned 21 years old, she upgraded to the newest Dahatsu Mira WX Turbo.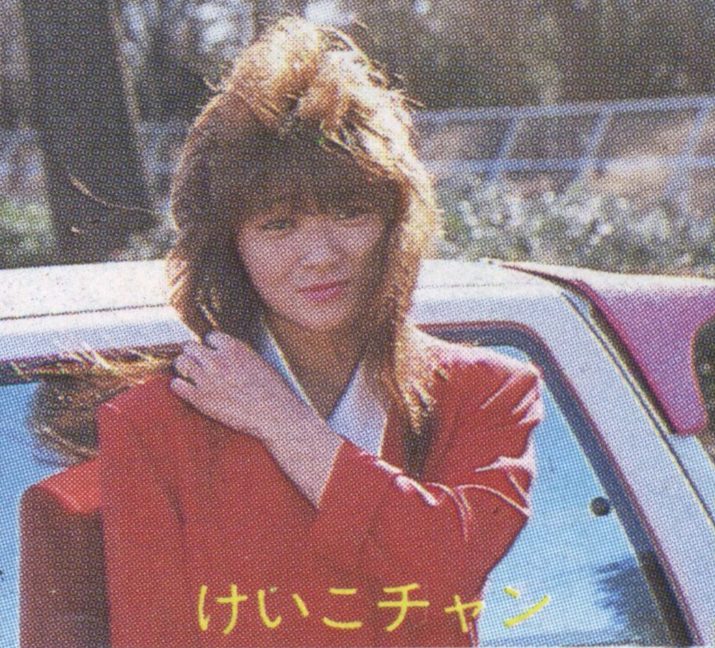 While cruising around Omiya in August of 1987, they stopped at a Mister Donut. A yankii woman driving a white Leopard pulled up and asked if the Mira was fast. This was Keiko-chan, 18 at the time, and the now third member of Madonna Racing. She immediately went and bought a new Mira and drove it straight to the shop to get two and a half coils cut out. Prior to all of their cars being painted, people started asking what the teams name was and who was the leader. Someone from Omiya Nanasato Racing was quoted saying there are girls saying there is a person like Madonna in Omiya. Atsuko then decided to name the group Omiya Madonna Racing, but with kanji originally (真呑奈). This is when Omiya Madonna Racing formed.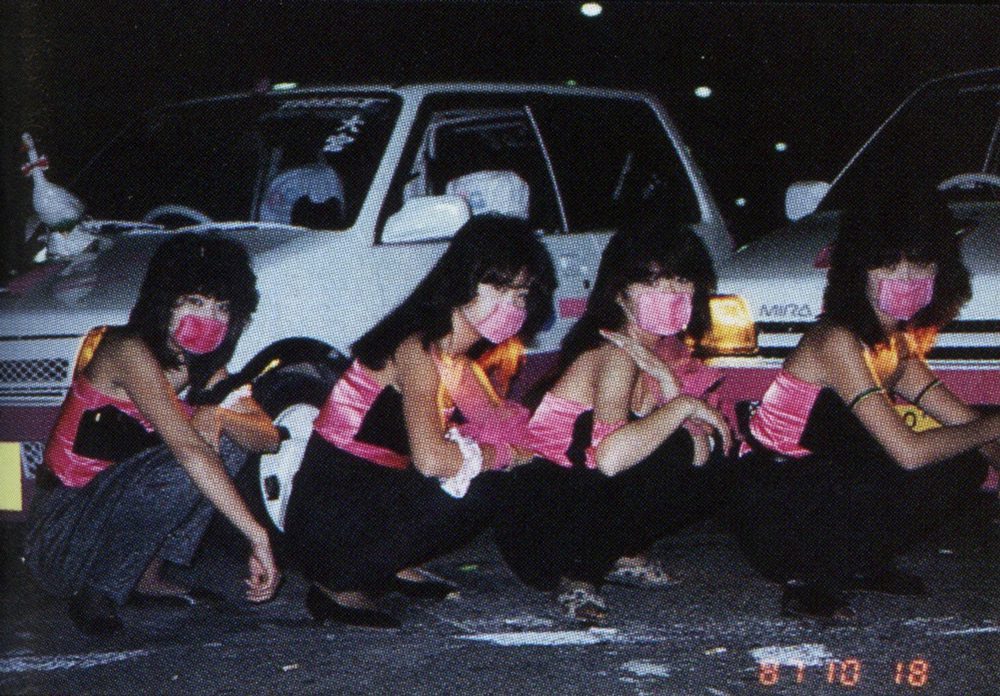 Madonna started prepping their cars for the next Grachan meeting in September, but something happened to Ume's car. While the two of them were in her car, Ume fell asleep at the wheel and crashed into another car. Atsuko later woke up in the x-ray room at the hospital. The car was then scrapped. Ume immediately ordered a replacement Mira and the three of them began to remodel the car like before. Once this was done, Atsuko sent a photo of their cars to Champ Road magazine. Champ Road then came out for an interview with Omiya Madonna Racing at Yono Park.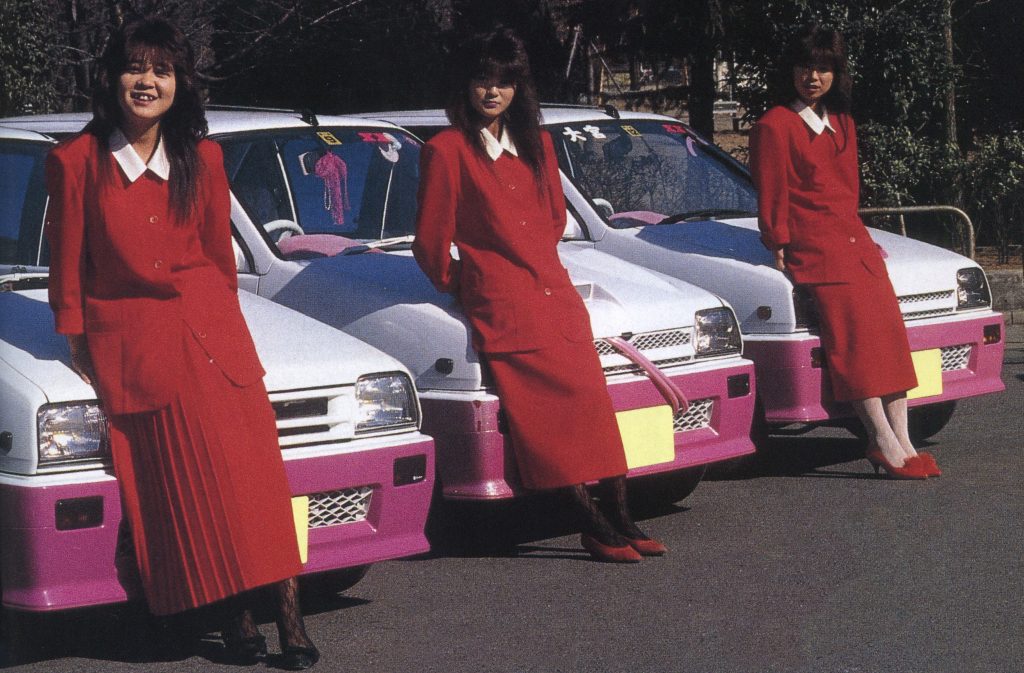 They went for a matching look for their team. Their cars were painted in the Courreges color theme, and they would wear matching outfits along with dyeing their hair the same color. Eventually the group was retired after the 1988 Fuji Grand Champion meeting.
Team Members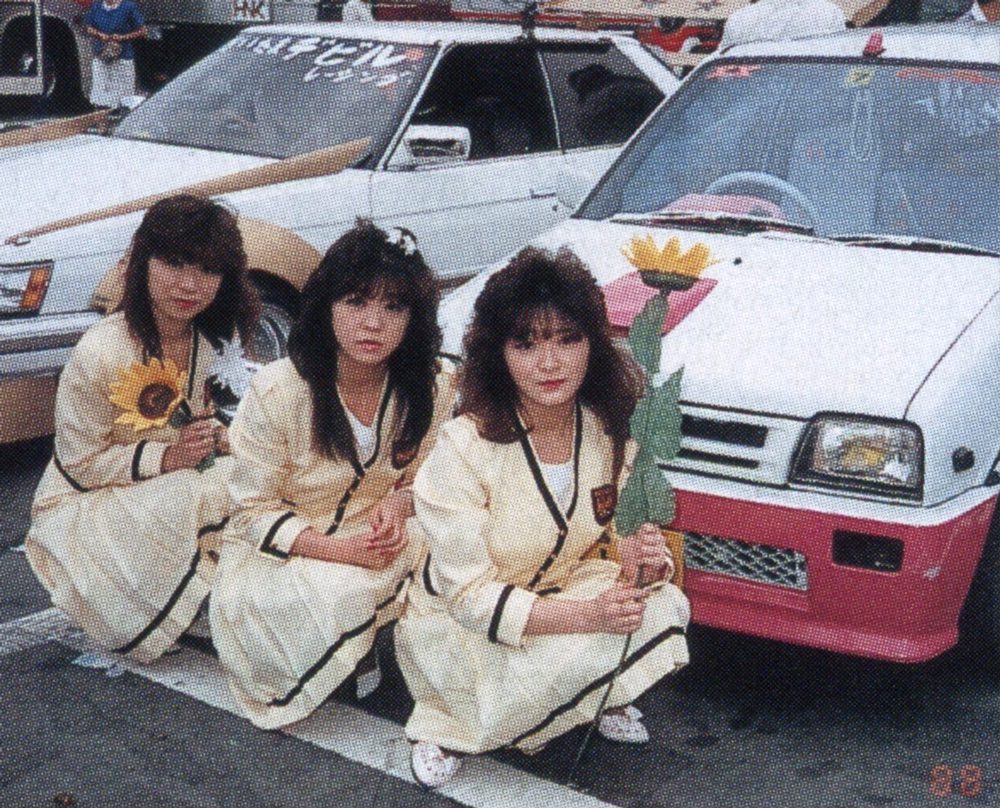 Atsuko-chan

1986 Daihatsu Mira TR-XX Turbo
1 1/2 coils cut on the springs
Bridgestone Genio Project 12 inch wheels
Bridgestone 331 Eager 165-60 tires
Trust 50 muffler
Auto Jewel upper and lower wings, smoked lens cover, fender trim, mirror cover, Toyota MR-2 duct
Interior: Steering wheel, shift knob, and seat covers from AC Courrèges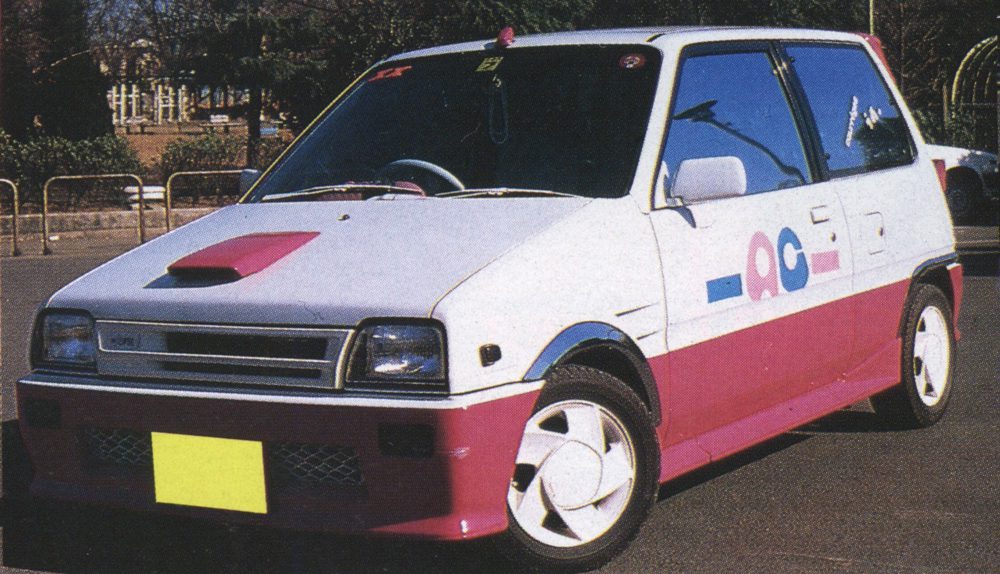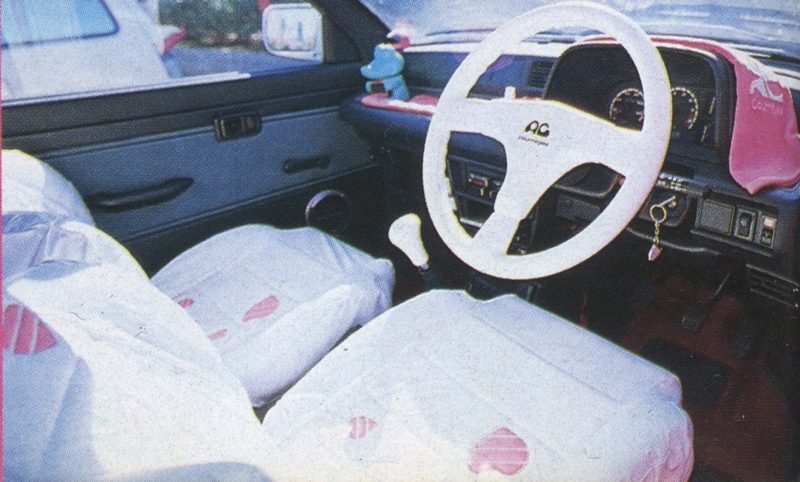 Keiko-chan
1987 Daihatsu Mira TR-XX Turbo.
"Ferrari" ducts
AC Courrages colors
Auto Jewel upper and lower wings
Toyota MR-2 duct
Bridgestone Genio Project 12 inch wheels
Interior: Steering wheel, shift knob, and seat covers from AC Courrèges
Ume-chan
1987 Daihatsu Mira TR-XX Turbo EFI
Auto Jewel upper and lower wings
Custom side vents
Bridgestone Genio Project 12 inch wheels
Interior: Steering wheel, shift knob, and seat covers from AC Courrèges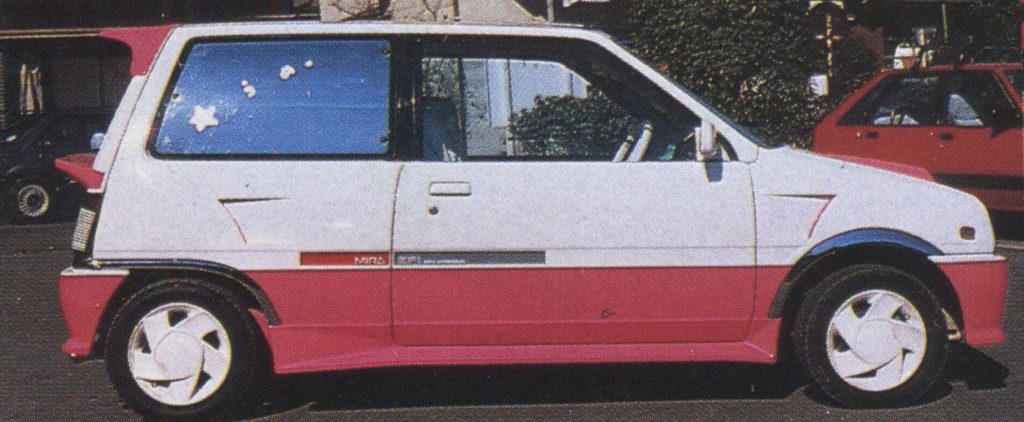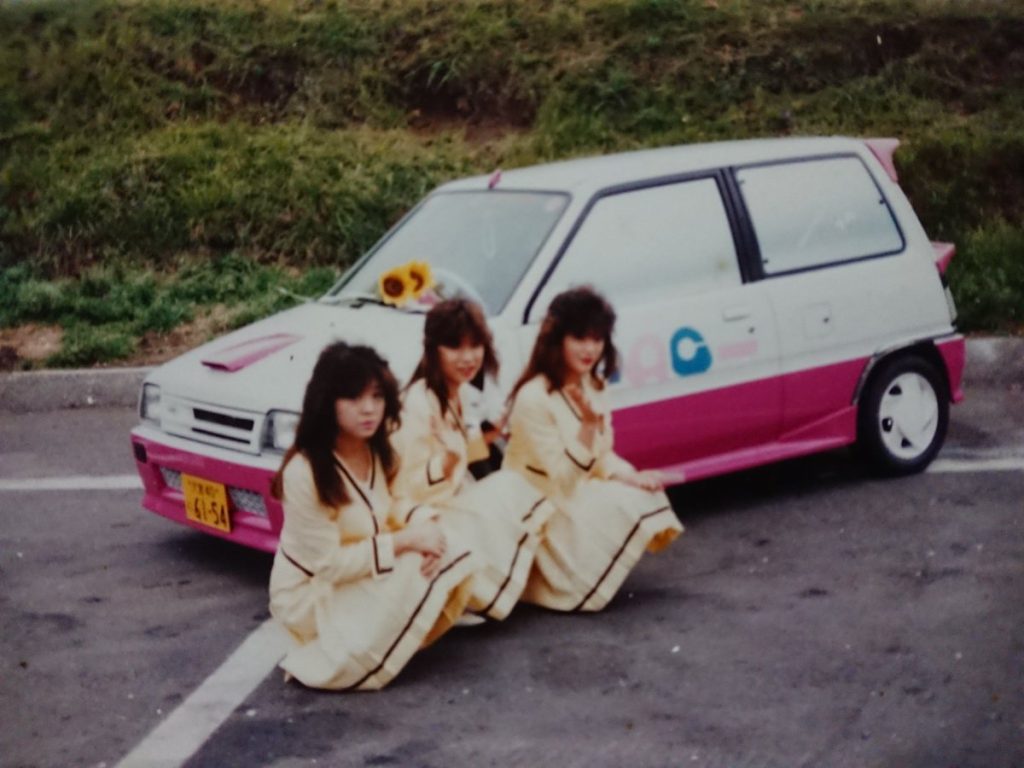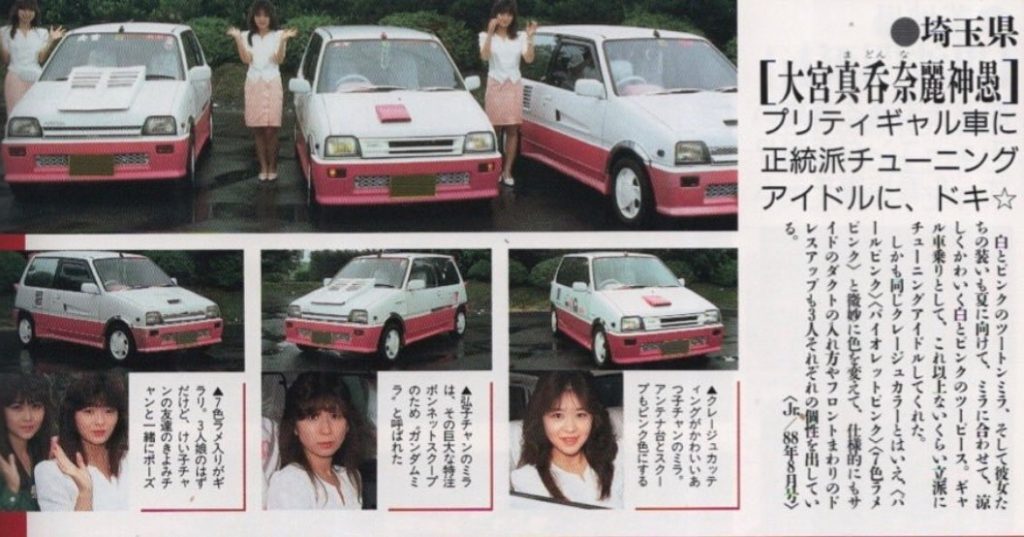 Their influence is still seen today, where people like Matsu-chan built her Mira matching Omiya Madonna Racing's style.
Where are they now?
In 2018, Keiko-chan was featured on a variety show with comedians Matsuko Deluxe and Teruyuki Tsuchida. The special explored yankii culture of the 1980s, from fashion, music, room aesthetics and other notable things of the era.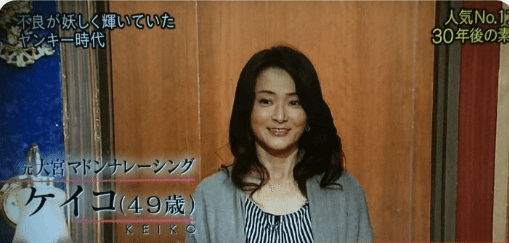 Atsuko has a twitter account that she still runs under the name of @omiyamadonna. She recalls the old days of being in the group, and how things were back then. She has also been hanging out with Matsu-Chan.
As for Ume-chan, I haven't found much information.
Sources:
Champ Road April 1988 (photos and information)
Champ Road September 2006 (photos and information)
Atsuko's Ameblo blog
5963matu