Japan in the 1980s was going through its best economic time known as the Bubble Economy. This flourishing period brought alot of demand for Japanese luxury cars. Holiday Auto Magazine named it the "Haiso Car Boom." The word "haiso" or ハイソ being compound word using the english words "High Society."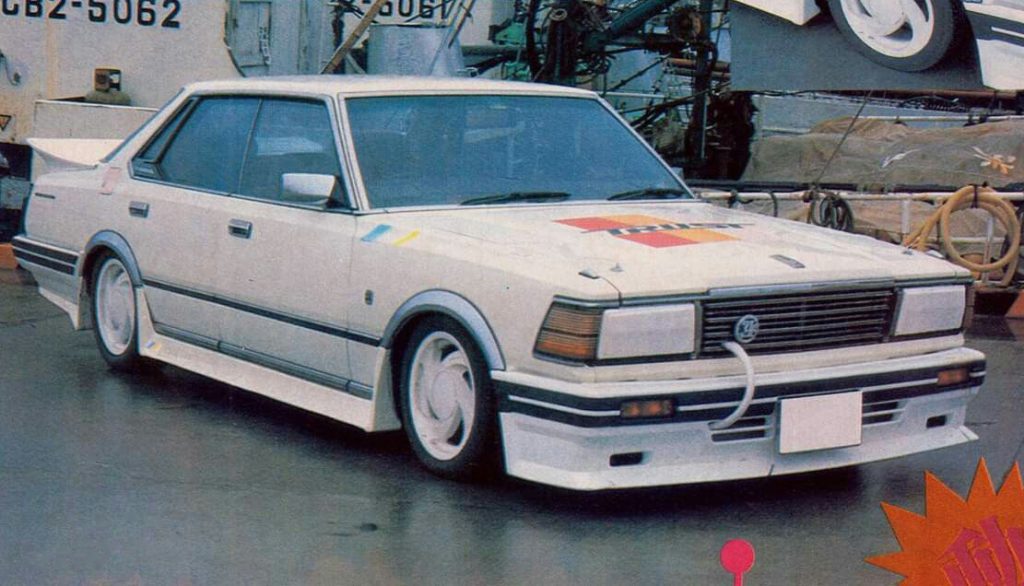 These young delinquents that were into these luxury cars would buy them and turn them into fashionable yet somewhat tacky kaido racers.
There are many style levels within a modified haiso car. The mildest form of haiso is a mostly stock car, slightly lowered and fancy wheels. It might also include an antenna or two. This style takes inspiration from old undercover police cars and even Yakuza.
On the other, more exaggerated side of the spectrum of this style takes on styling cues from Chibaragi, but tones them down at the wheels and fitment. The addition of spoilers, vents, and bright and shiny paint jobs is what distinguishes itself from the more conservative specification.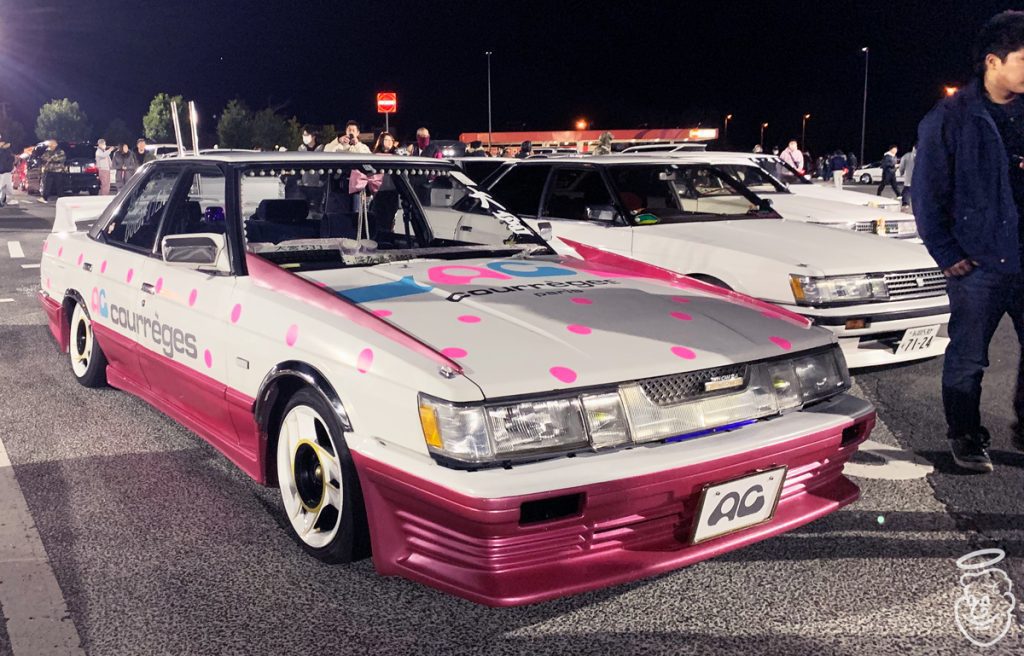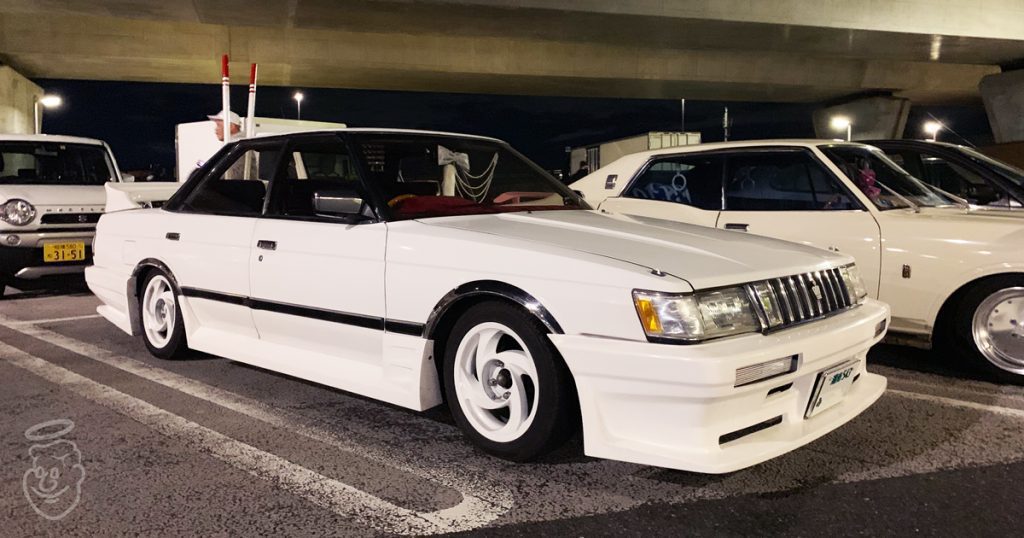 White on White is the most notorious spec among haiso enthusiasts. The opposite of being murdered-out, the car is usually a white base and sports a set of white aero wheels such as Hiro V1 or V1R, Rays Super Volks, and Enkei Aeronautics.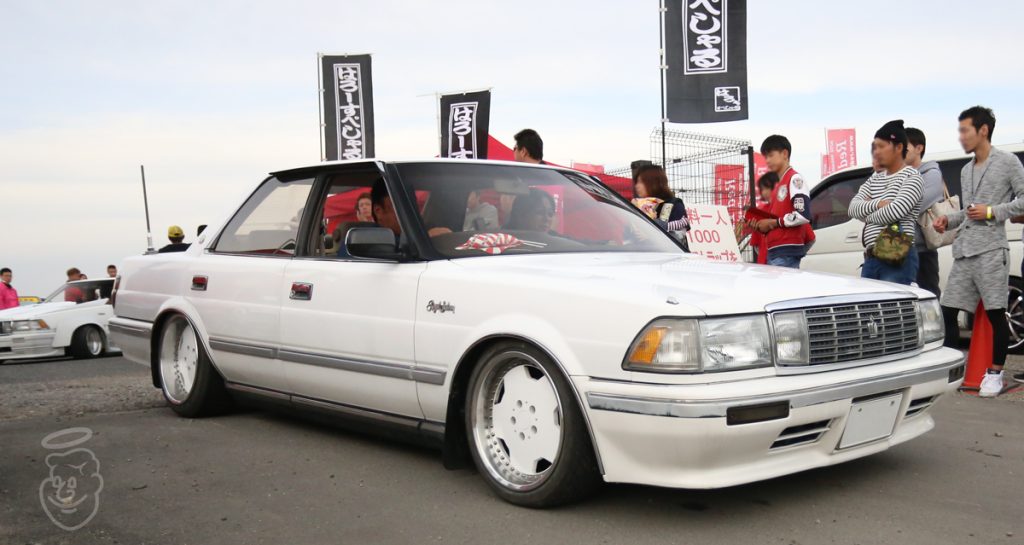 Haiso was to the 1980s as VIP was to the 1990s. In the early days of VIP, it took a lot of cues from haiso and kaido racers in general. Haiso can be considered the precursor to VIP. The one thing that heavily differentiated VIP from haiso in the beginning was the diameter of the wheel. It has been speculated that around 1992, car enthusiasts in Japan were transitioning from 14 and 15 inch wheels to much larger 17 and soon 18 inch wheels. The release of new larger and rounder luxury cars also differentiated them. That's not to say you can't do up a Lexus LS400 or a 1990s Toyota Crown in Haiso fashion. Though it was clear that everything was getting bigger; the cars, the wheels, and the bodykits. VIP was the new style trend on the block and it was here to stay.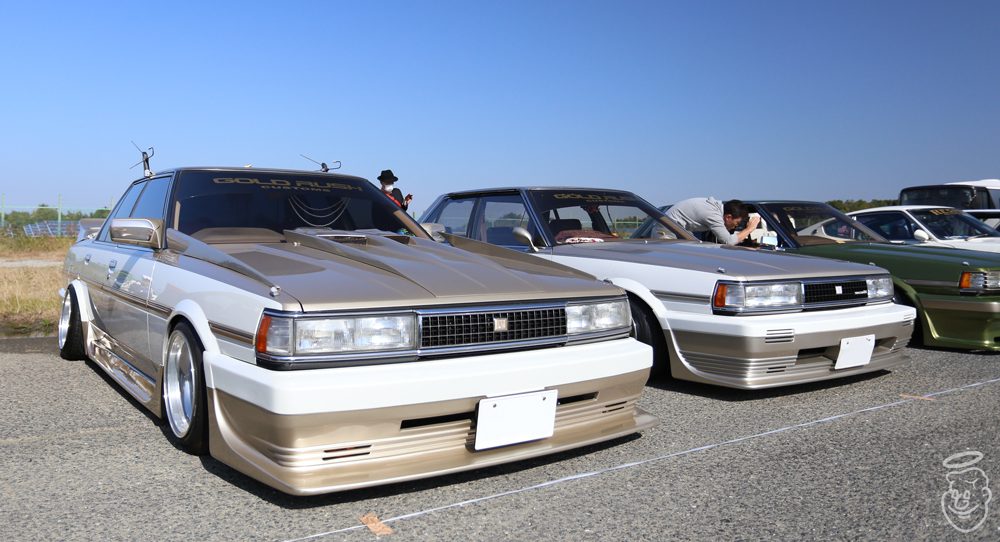 Gold Rush Customs has also re-invented the haiso look with a more modern take of the classic style. Hiro body kits are incorporated, but also with a flair of chibagrai. Many of the cars feature more creature comforts like air cups or airbag suspension. Gold Rush Customs also creates new parts for their customers like new over fenders, new cladding, and other new custom fiberglass work.
Haiso Style Guidelines:
No excessive camber
Wheels below 7.5j
Wheel no larger than 16in
Wheels tucked in under the fender well, no fender to lip fitment.
Minimal to no Stretch
Popular Bases
Toyota GX61-GX81/Cressida
Toyota Crown
Toyota Soarer
Nissan 430, Y30 (Cedric and Gloria)
Nissan Laurel
Honda Prelude 2nd Gen
Daihatsu Mira and Suzuki Alto
Popular Wheels
Hiro V1 & V1R
Rays Super Volk
Fin Style wheels
Enkei Aeronautics
Volk Wire Wheels
Fortecs Imperials
Weiser wire wheels
Bridgestone Dandismo
SSR MK1
SSR XR-3
Cragar SS
BBS RS
Zauber Dish
Popular Accessories
Pearls strands
Light up Deck Speakers
Light up Stereo Unit
Lace Curtains
Lace Seat Covers
Tulip Ashtray
Velour Dash Cover
Chandelier
Fancy pedal Covers
Resin shift knob
AC cup holder
Love Lights
Patlite
Woodgrain steering wheel smaller than 330mm
Trunk Antennas
Boomerang Antenna
Chopstick antennas
Chrome fender trim
Lonza Smoked Taillight covers
Gains Chrome Side Steps
Exterior Aero
Sevenpane
Nidan
Getapane
MR2 Vent
Slit Mask
Bonnet Scoop
Fender Spoiler
Popular Clothing brands associated
Mikihouse
Renoma Paris
Courreges
Michiko London